SKU: CT-0035
Regular price
Sale price
₹130.00
Unit price
per
Sale
Sold out
In stock
Ultralow power: as low as 40 μA in measurement and 0.1 μA in standby mode
User-selectable resolution
Tap/double tap, Free-Fall detection
Supply voltage range: 2.0 V to 3.6 V
SPI (3- and 4-wire) and I2C digital interfaces
Measurement ranges selectable via serial command
10,000 g shock survival
Get it before
using
Express Shipping
.
B2B customers can avail
₹19.83
ITC on this product.
Free Shipping over
₹499
.
Safe Handling

Faster Shipping

Easy Return
View full details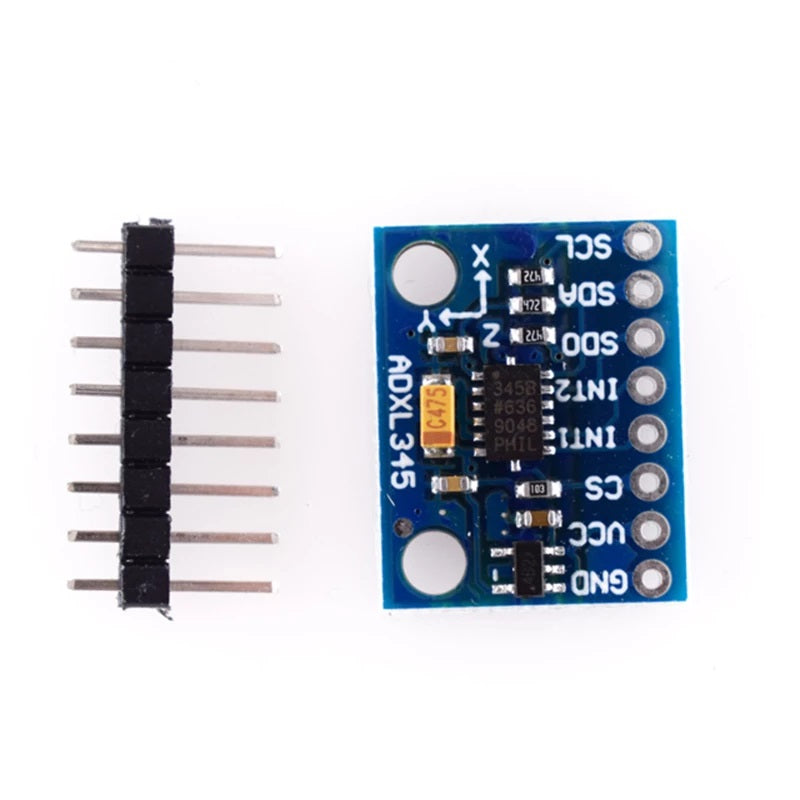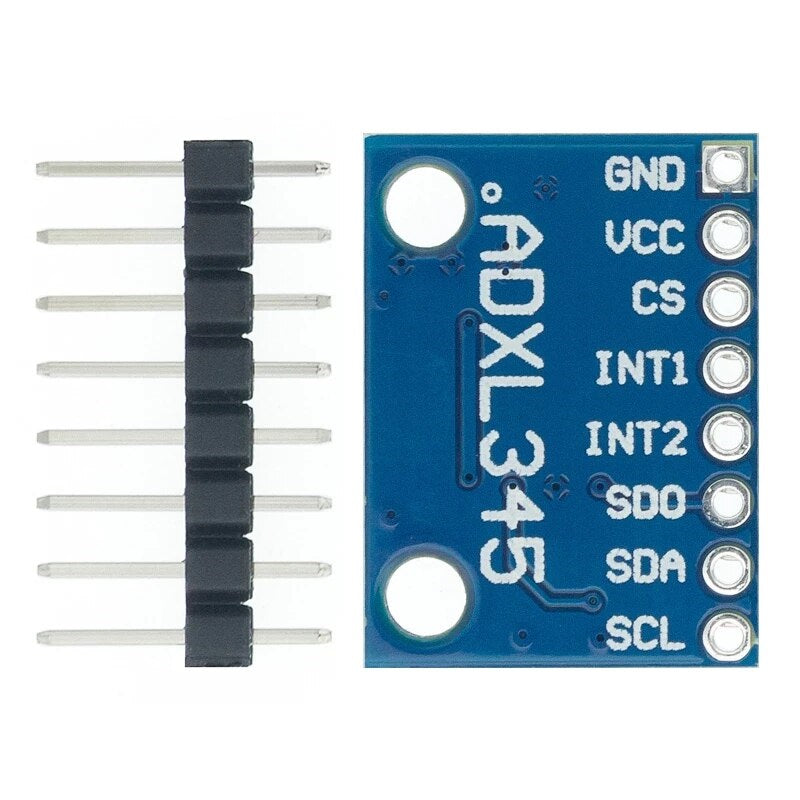 The ADXL345 is a small, thin, low power, 3-axis accelerometer with high resolution (13-bit) measurement at up to ±16 g. Digital output data is formatted as 16-bit twos complement and is accessible through either a SPI (3- or 4-wire) or I2 C digital interface. The ADXL345 is well suited for mobile device applications.
It measures the static acceleration of gravity in tilt-sensing applications, as well as dynamic acceleration resulting from motion or shock. Its high resolution (4 mg/LSB) enables measurement of inclination changes less than 1.0°. Several special sensing functions are provided. Activity and inactivity sensing detect the presence or lack of motion and if the acceleration on any axis exceeds a user-set level.
Tap sensing detects single and double taps. Free-fall sensing detects if the device is falling. These functions can be mapped to one of two interrupt output pins. An integrated, patent pending 32-level first in, first out (FIFO) buffer can be used to store data to minimize host processor intervention. Low power modes enable intelligent motion-based power management with threshold sensing and active acceleration measurement at extremely low power dissipation.
Features:
Ultralow power: as low as 40 μA in measurement and 0.1 μA in standby mode
User-selectable resolution
Tap/double tap, Free-Fall detection
Supply voltage range: 2.0 V to 3.6 V
SPI (3- and 4-wire) and I2C digital interfaces
Measurement ranges selectable via serial command
10,000 g shock survival
Applications:
Medical instrumentation
Gaming and pointing devices
Industrial instrumentation
Personal navigation devices
Fitness equipments
| | |
| --- | --- |
| Input Voltage | 3~6V |
| Measurement Range | ±2g, ±4g, ±8g, ±16g (User selectable) |
| Resolution | 10bit ~ 13 bit (Depends on the selected Range) |
| Interface | I2C/SPI |
| Number of Pins | 8 (VCC,GND,CS,INT1,INT2,SDO,SDA,SCL) |
| Product Dimensions | 20.5 x 15.5mm |
| Operating Temp range | -40°C to +85°C |
| Product Weight | 5 grams |
Country of origin : China
Note: The pins are Unsoldered but the Header pins are provided separately in the package.
ADXL345 digital accelerometer module
8-pin Male-Male Header