SKU: CT-0027
Regular price
Sale price
₹135.00
Unit price
per
Sale
Sold out
Low stock
Operating Voltage: 5V/3.3V DC
Supports Baud rates from 300bps to 3Mbps (RS422, RS485, RS232) at TTL levels
128 byte receive buffer and 256 bytes transmit buffer
Fully integrated USB termination resistors
Transmit and receive LED Indications
USB power has over current protection, using 500MA self-restore fuse
Single chip USB to asynchronous serial data transfer interface
Get it before
using
Express Shipping
.
B2B customers can avail
₹20.59
ITC on this product.
Free Shipping over
₹499
.
Safe Handling

Faster Shipping

Easy Return
View full details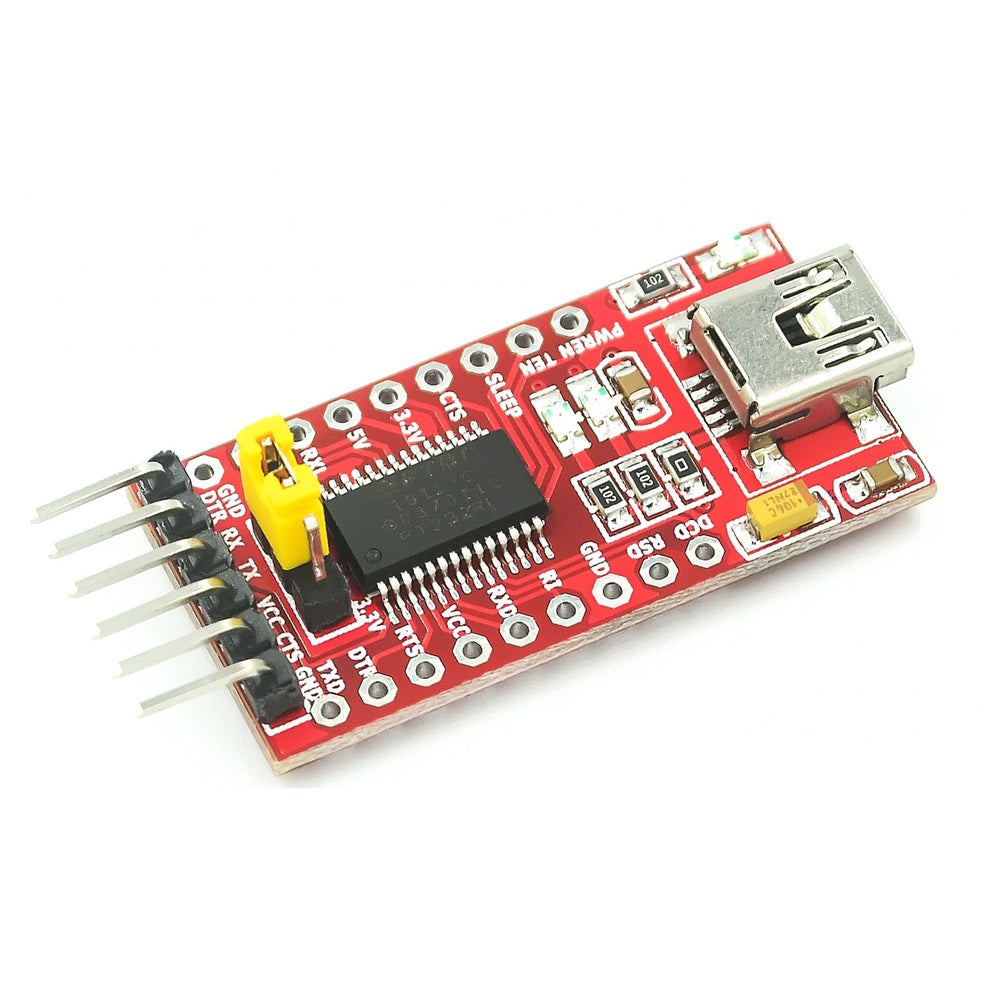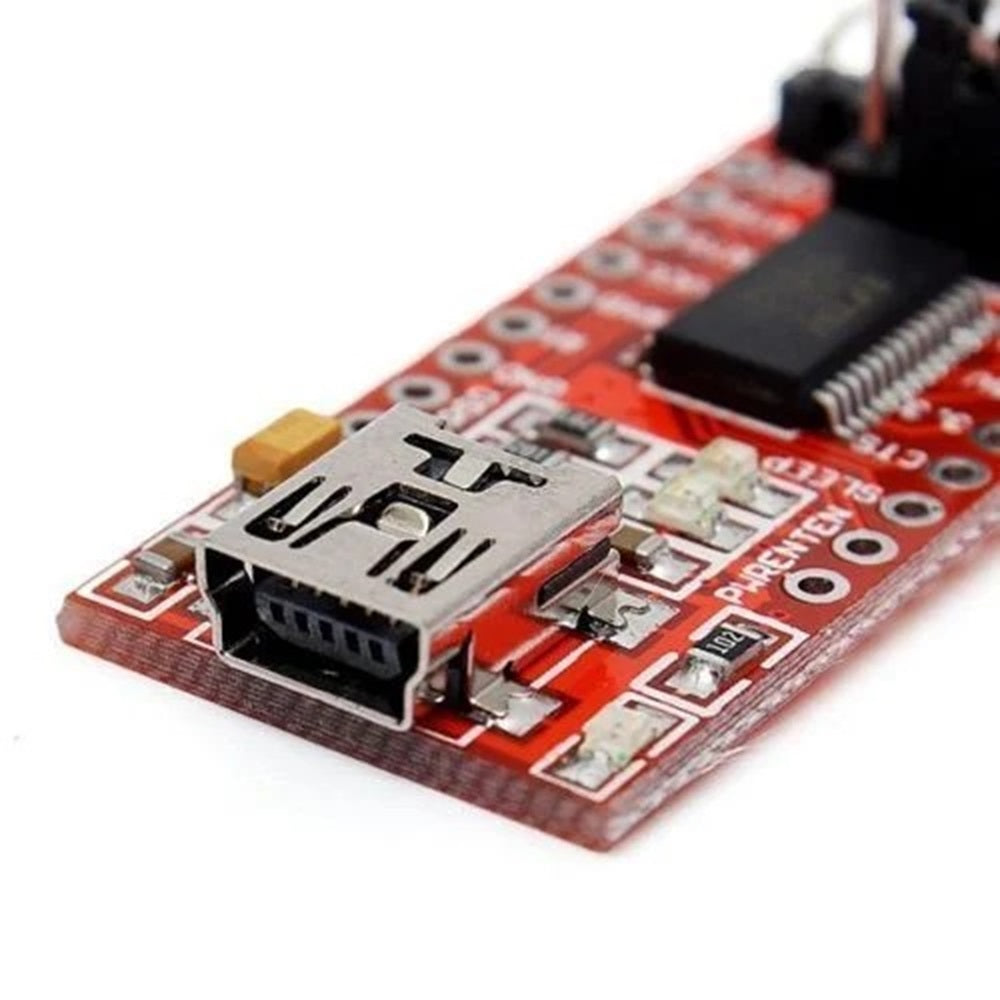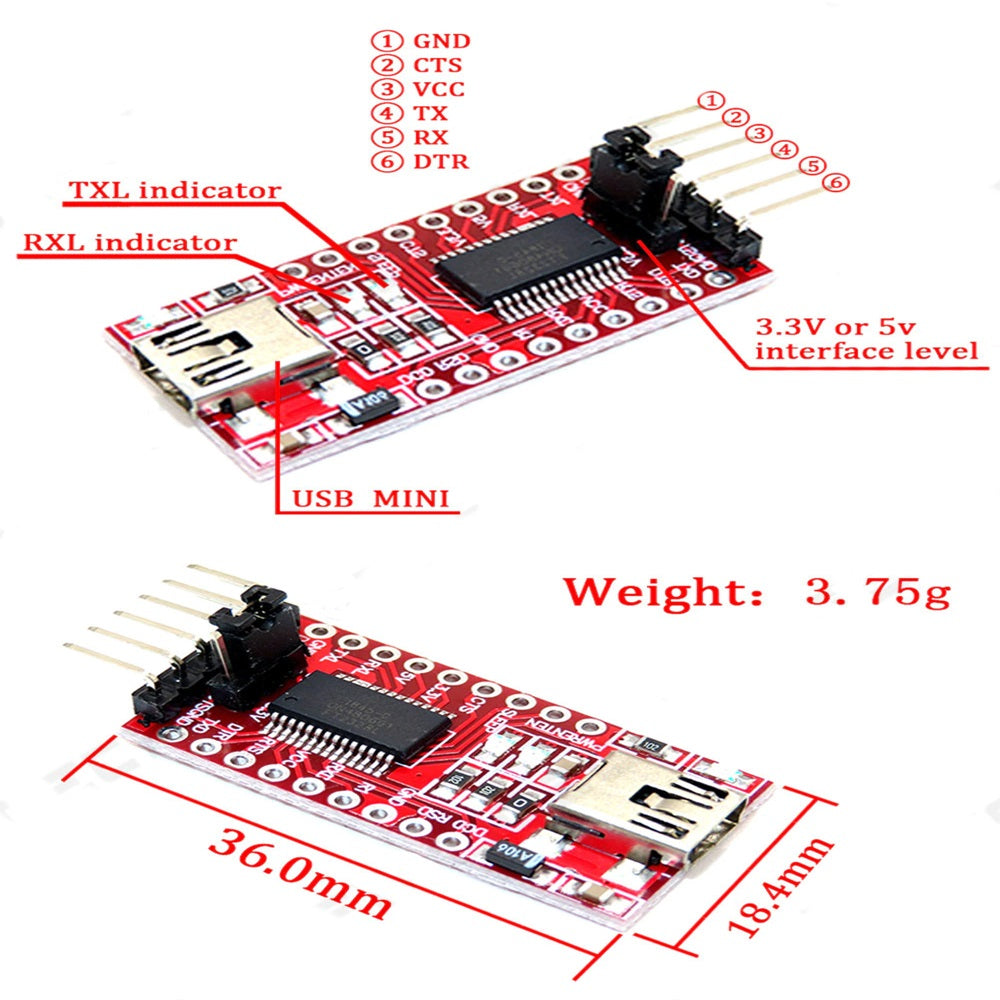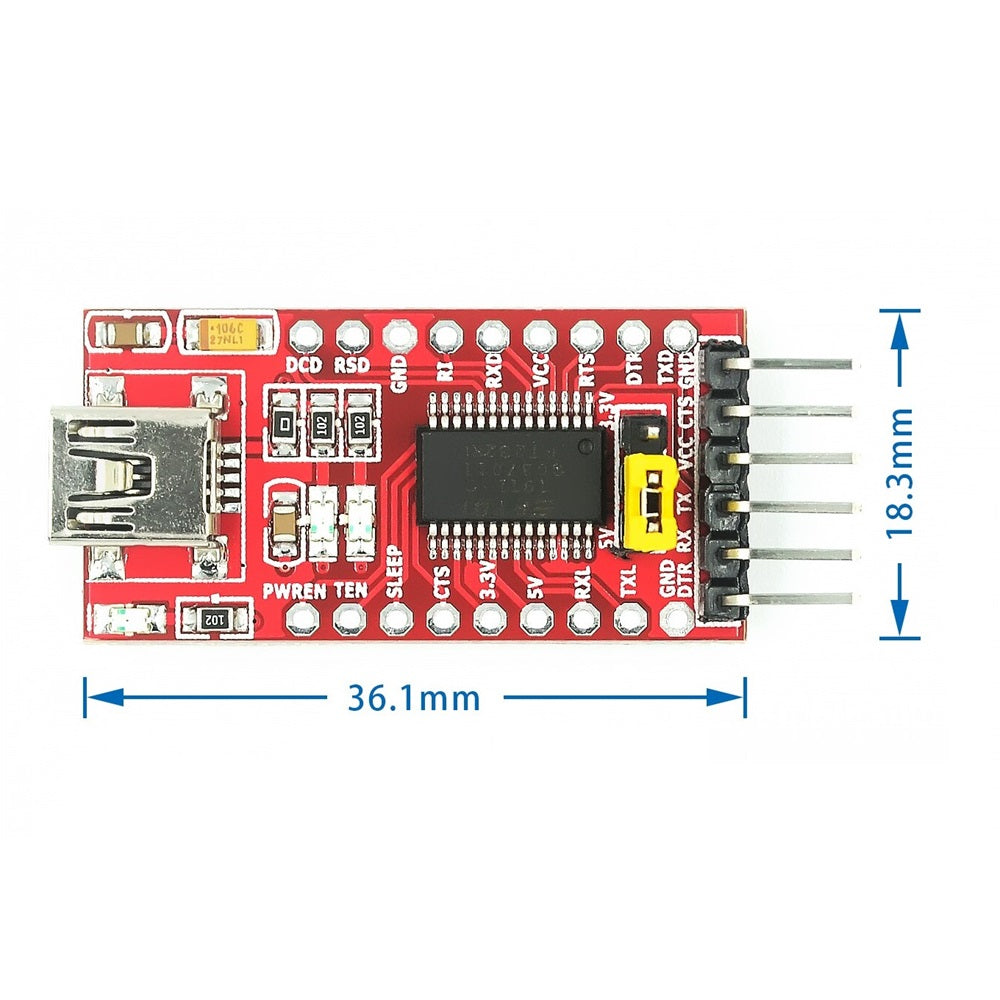 The FT232RL USB to TTL 3.3V/5V FTDI Serial Adapter Module is a popular module that is used to connect a TTL serial communicating device to a PC via a USB mini port. This converter module has options for different output voltage options which are set by the jumper on the board. FT232RL USB to TTL Serial Adapter Module can be used to upgrade any legacy peripherals to USB.
The USB to TTL serial adapter is based on the high quality and very popular FTDI FT232RL chipset and is an excellent way to connect TTL serial devices to a PC through a USB port. Unlike most USB to TTL serial adapters, this adapter supports both 5V AND 3.3V operation! Simply set the jumper as required to choose between 5V and 3.3V as labelled on the board.
The adapter comes with a right-angle connector fitted allowing you to use it straight away. If you need to access any of the other inputs or outputs of the FT232RL, all the useful signals are provided as through-hole solder pads - ideal for use with straight headers into a breadboard, for example.
Features:
Operating Voltage: 5V/3.3V DC
Supports Baud rates from 300bps to 3Mbps (RS422, RS485, RS232) at TTL levels
128 byte receive buffer and 256 bytes transmit buffer
Fully integrated USB termination resistors
Transmit and receive LED Indications
USB power has over current protection, using 500MA self-restore fuse
Single chip USB to asynchronous serial data transfer interface
Applications:
Programming microprocessors such as ARM, AVR, etc
Working with computing hardware such as routers and switches
USB to RS232/RS422/RS485 Converters
USB Audio and Low Bandwidth Video data transfer
| | |
| --- | --- |
| Driver Chipset | FT232RL |
| Operating Voltage | 3.3 ~ 5V |
| Baud rate | 3bps ~ 3Mbps |
| Buffer Size | 128Bytes (RX), 256Bytes (TX) |
| Connectivity | USB Mini |
| Number of Pins | 6 (DTR,RXD,TX,VCC,CTS,GND) |
| Product Dimensions | 36.1 x 18.3mm |
| Working Temperature | -40°C ~ +85°C |
| Product Weight | 10 grams |
Country of origin : China
Note: 6 pins are presoldered to the module.
FT232RL USB to TTL Serial Adapter Module