SKU: CT-0021
Regular price
Sale price
₹65.00
Unit price
per
Sale
Sold out
Low stock
True single chip GFSK transceiver
Auto ACK & retransmit
Address and CRC computation
On the air data rate 1 or 2Mbps
Digital interface (SPI) speed 0-8 Mbps
125 RF channel operation
Power supply range: 1.9 to 3.6 V
Get it before
using
Express Shipping
.
B2B customers can avail
₹9.91
ITC on this product.
Free Shipping over
₹499
.
Safe Handling

Faster Shipping

Easy Return
View full details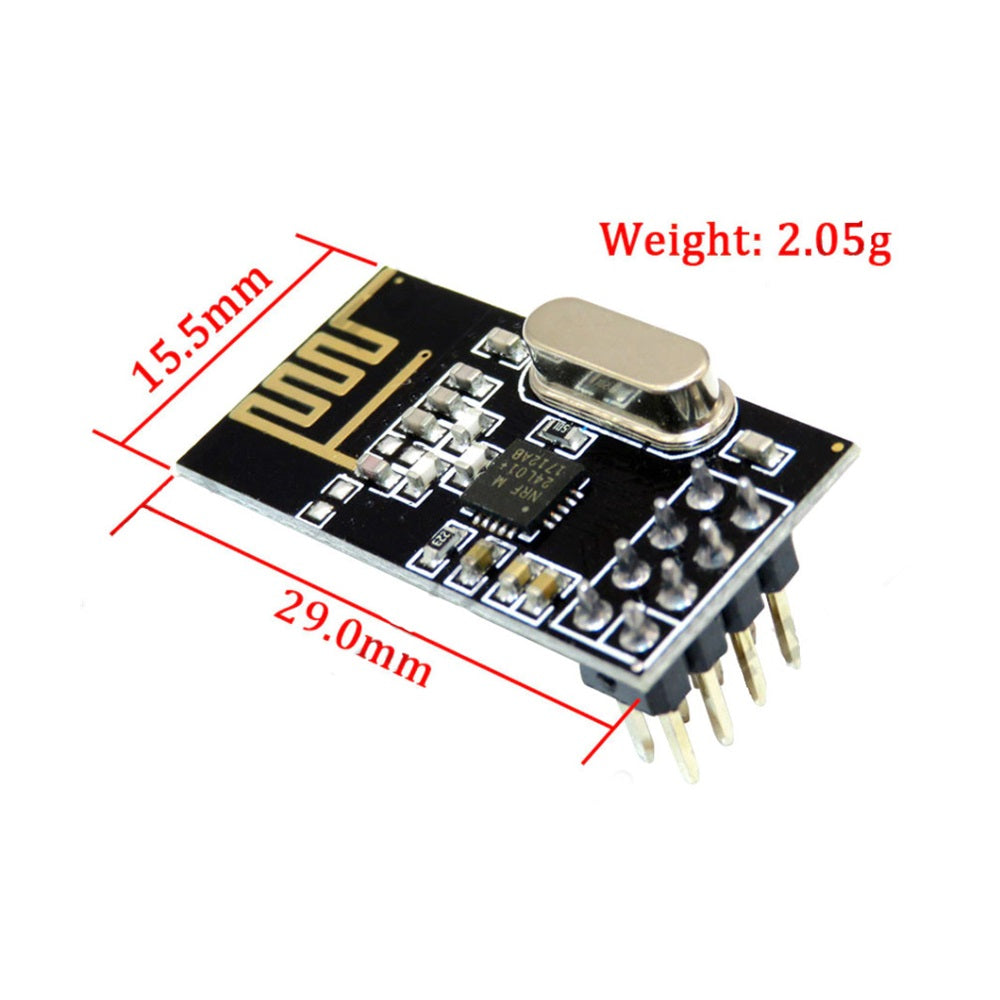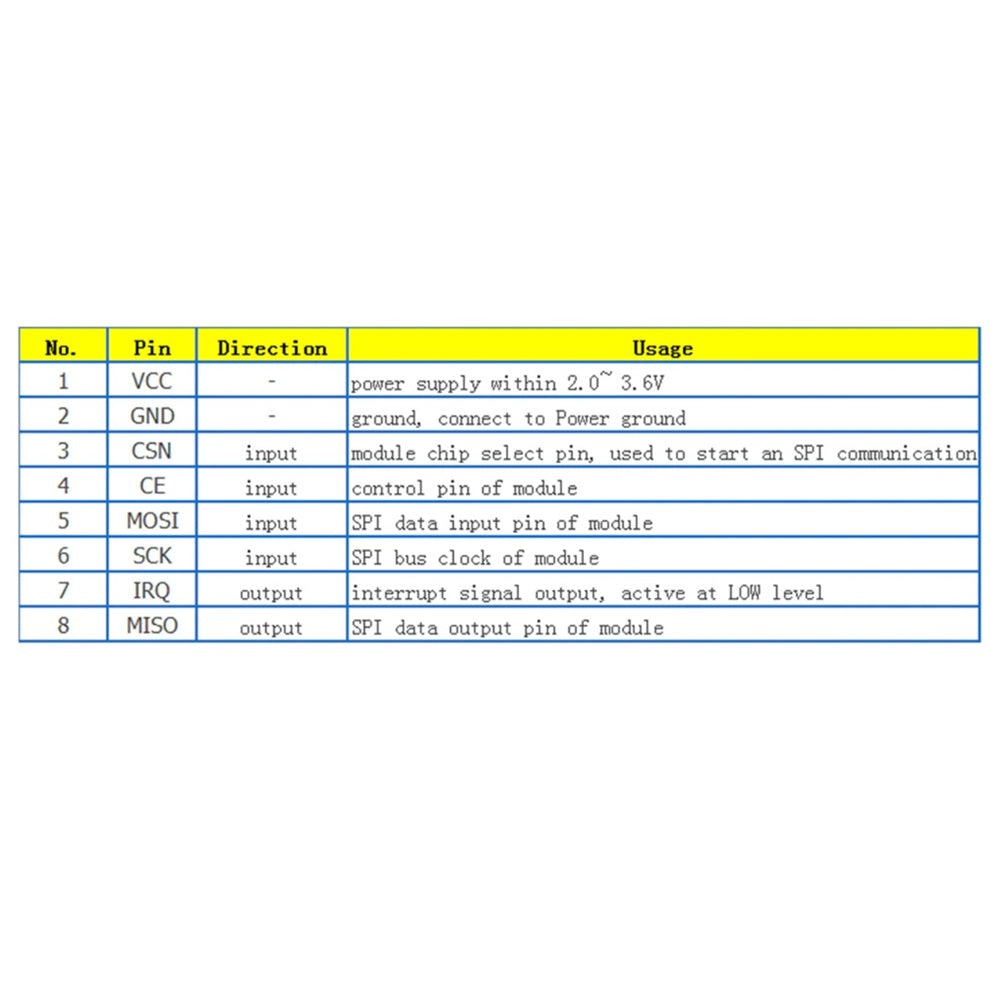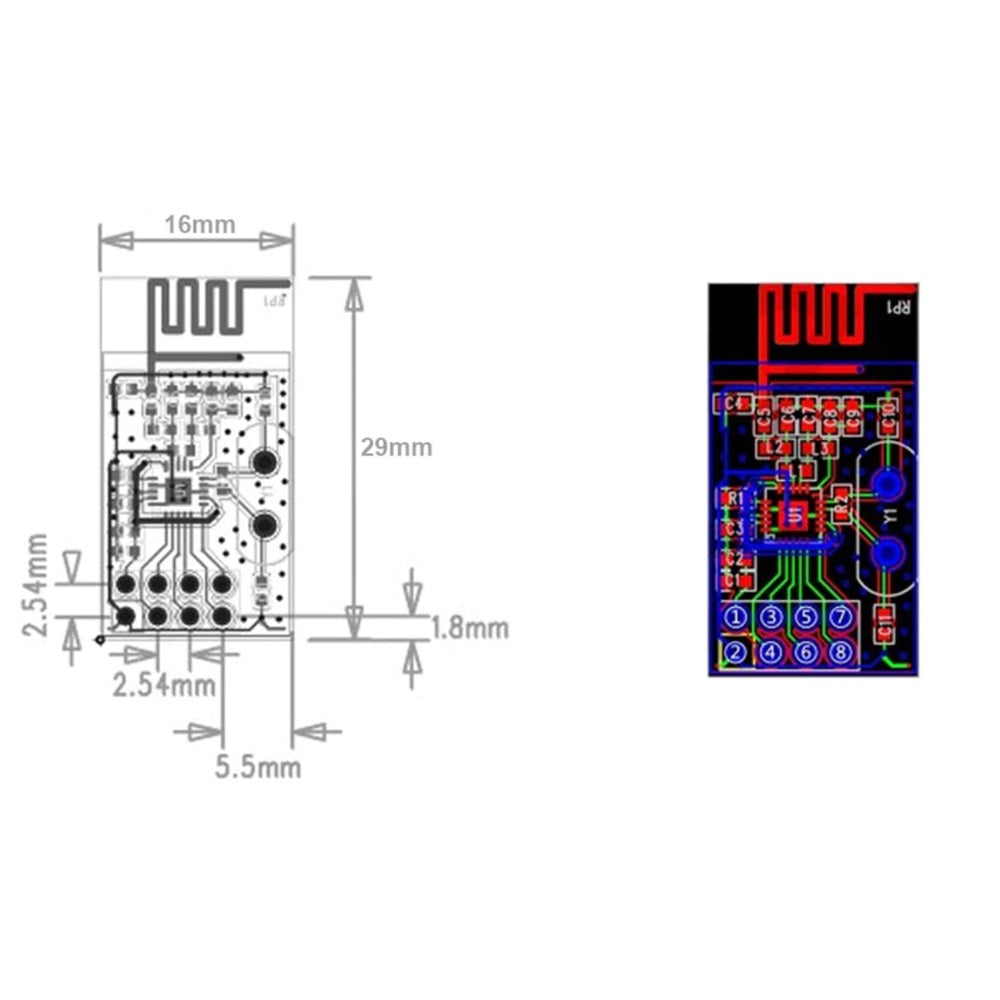 nRF24L01 is a single chip radio transceiver for the world wide 2.4 - 2.5 GHz ISM band. The transceiver consists of a fully integrated frequency synthesizer, a power amplifier, a crystal oscillator, a demodulator, modulator and Enhanced ShockBurst™ protocol engine. Output power, frequency channels, and protocol setup are easily programmable through a SPI interface. Current consumption is very low, only 9.0mA at an output power of -6dBm and 12.3mA in RX mode. Built-in Power Down and Standby modes makes power saving easily realizable.
The module operates at 3.3V hence can be easily used with 3.2V systems or 5V systems. Each module has an address range of 125 and each module can communicate with 6 other modules hence it is possible to have multiple wireless units communicating with each other in a particular area. Hence mesh networks or other types of networks are possible using this module. 
Features:
True single chip GFSK transceiver
Auto ACK & retransmit
Address and CRC computation
On the air data rate 1 or 2Mbps
Digital interface (SPI) speed 0-8 Mbps
125 RF channel operation
Power supply range: 1.9 to 3.6 V
Applications:
Wireless mouse, keyboard, joystick
Alarm and security systems
Wireless data communication
Home automation
Intelligent sports equipment
Industrial sensors
| | |
| --- | --- |
| Supply Voltage | 1.9 ~ 3.6V |
| Crystal frequency | 16MHz |
| Operating frequency | 2400 ~ 2525MHz |
| Maximum data rate | 2Mbps |
| No of channels | 125 |
| Interface | SPI |
| Product Dimensions | 29 x 15.5mm |
| Operating Temperature | -40°C to +85°C |
| Product Weight | 5 grams |
Country of origin : China
Note: The pins are presoldered to the module.
NRF24L01 2.4GHz Transceiver module