SKU: CT-0012
Regular price
Sale price
₹85.00
Unit price
per
Sale
Sold out
Low stock
Easy to connect with the LCD1602
Input Voltage: 3~5V
Slave address :: 0x27 (7 Bit Address), 0x4E (8 Bit Address)
Working Temperature: -40°C~80°C
On board Potentiometer to adjust LCD contrast
Get it before
using
Express Shipping
.
B2B customers can avail
₹12.96
ITC on this product.
Free Shipping over
₹499
.
Safe Handling

Faster Shipping

Easy Return
View full details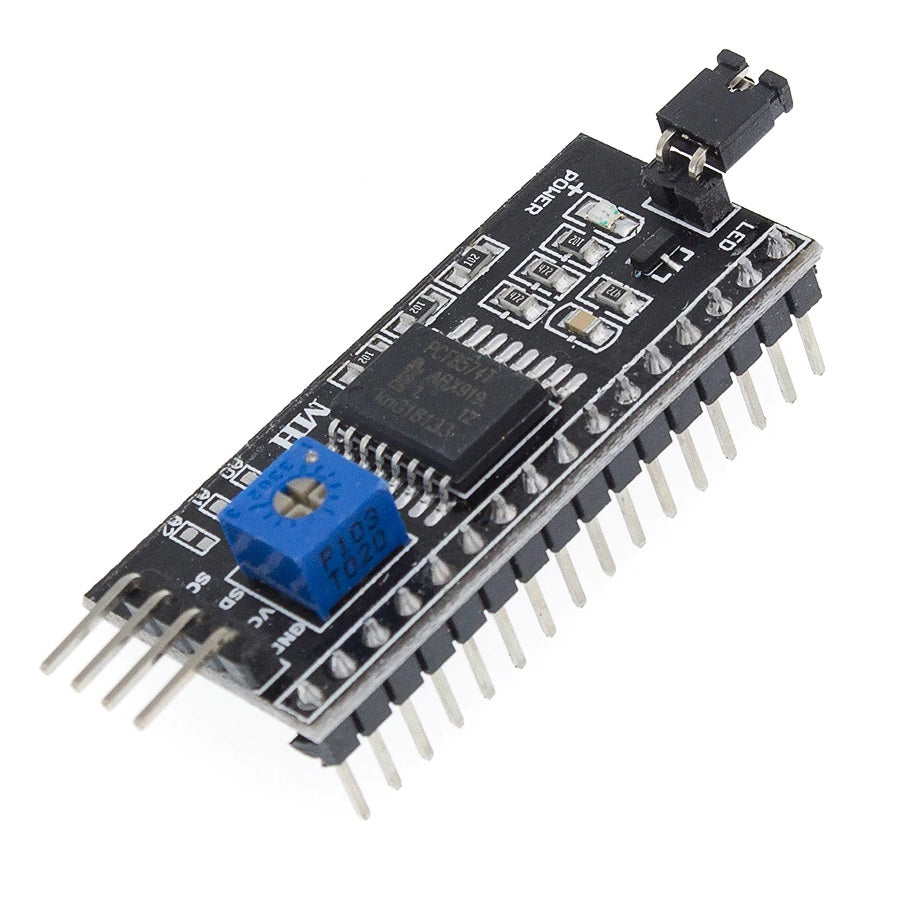 The PCF8574 device provides general-purpose remote I/O expansion for most microcontroller families by way of the I2C interface [serial clock (SCL), serial data (SDA)].

The PCF8574 I2C to Parallel-Port Expander is the optimal solution for quick and easy connection with LCD1602, with only two pins required (SCL and SDA) to interface with the MCU.
This device also features an 8-bit quasi-bidirectional I/O port (P0–P7) with latched outputs, providing high current drive capability for directly driving LEDs. Each quasi-bidirectional I/O can be used as an input or output without the use of a data-direction control signal. At power on, the I/Os are high. In this mode, only a current source to VCC is active.
Features:
Low Standby-Current Consumption of 10 μA Max
Easy to connect with the LCD1602
Input Voltage: 3~5V
Slave address :: 0x27 (7 Bit Address), 0x4E (8 Bit Address)
Working Temperature: -40°C~80°C
Open-Drain Interrupt Output
On board Potentiometer to adjust LCD contrast
Applications:
Telecom Shelters: Filter Units
Routers (Telecom Switching Equipment)
Personal Computers
Personal Electronics
Products with GPIO-Limited Processors
| | |
| --- | --- |
| Input Voltage | 3~5V |
| Interface | I2C |
| Input Pins | 4 (VCC, GND, SCL, SDA) |
| Default Slave Addr | 0x27(7Bit), 0x4E(8Bit) |
| Driver IC | PCF8574 |
| Product Dimensions | 48 x 16 x 15mm |
| Operating range | -40°C to 80°C |
| Product Weight | 10 grams |
Country of origin : China