SKU: CT-0039
Regular price
Sale price
₹399.00
Unit price
per
Sale
Sold out
Low stock
Microcontroller ATmega328 (SMD) – Interface CH340G
Operating Voltage: 5 V, Input Voltage: 7 to 12 V
14 Digital I/O pins, 6 PWM Pins, 6 Analog Input pins
Compatible with Arduino Uno
Get it before
using
Express Shipping
.
B2B customers can avail
₹60.85
ITC on this product.
Free Shipping over
₹499
.
Safe Handling

Faster Shipping

Easy Return
View full details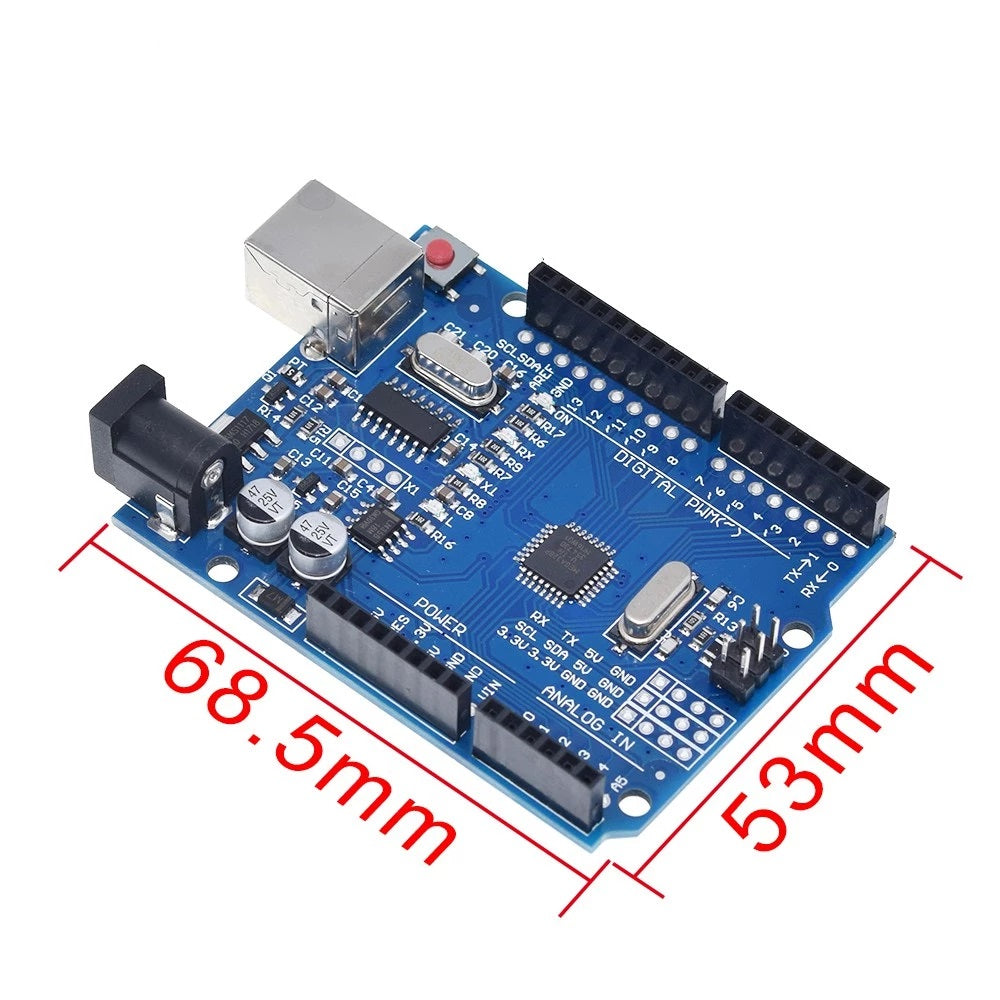 Arduino Uno R3 is one of the widely used and accepted module for prototyping. It has huge user community worldwide. Uno R3 SMD module is based on the Atmega328p-AU MCU of Atmel AVR Family. It is a 8 Bit Microcontroller. This is an entry level development board. But, is not a basic one, it packs 32 KB Flash, 2 KB RAM, and 1 KB of EEPROM.
The module has onboard USB to TTL converter chip. It also has onboard voltage regulator for 5V and 3.3V. The module can take input of up to 16V DC. The module has a 16 Mhz clock. The Atmega needs 5V for operation @ 16 Mhz. It has 14 Digital I/Os, and 6 Analog Inputs. Out of 14 Digital I/Os, 6 pins can provide PWM output. The module has a UART on pins 0 and 1. Almost all of the pins are mappable with interrupt vector. The max DC Current per I/O pin is 20mA. The analog inputs can also function as digital I/Os. It supports various interfaces like: SPI,I2C, UART, etc. Also, the onboard 3.3V pin can provide upto 50mA current.
It is used for quick prototyping. This version comes with Separate header pins, which are solderable if required, for connection of female jumper wires.
The module is easily programmable using the Arduino IDE on PC. It needs to connect to the PC via USB Cable. So, the IDE will detect it, and on click of a button, the program compilation and uploading to the development Board will be done. The module can be also programmed via dedicated pins for the programmer, but the Atmel ICE or similar compatible programmer is required in that case. Whereas, No extra components are required, in case of USB.
The IDE provides various ready to use libraries, increasing the usage scenarios for the board.
Features:
Microcontroller ATmega328 (SMD) – Interface CH340G
Operating Voltage: 5 V, Input Voltage: 7 to 12 V
14 Digital I/O pins, 6 PWM Pins, 6 Analog Input pins
Compatible with Arduino Uno
| | |
| --- | --- |
| Microcontroller Chip | ATmega328P (SMD) |
| Input Voltage | 7 ~ 12V |
| Operating Voltage | 5V |
| Clock | 16MHz (Crystal) |
| SRAM | 2KB |
| FLASH | 32KB |
| EEPROM | 1KB |
| Power Supply Option | DC Jack or USB |
| Product Dimensions | 68.5 x 53mm |
| Operating range | -40°C to +90°C |
| Product Weight | 60 grams |
Country of origin : China
Note: The pins might be soldered but it depends on availability. Otherwise the Header pins will be provided separately in the package
UNO R3 ATmega328P SMD CH340 Development Board
40pin Male-Male Header
USB Type B cable